About Us... Blah blah blah...
Do you have that too, when you read an "about us" page.
It's almost never really about who you're actually dealing with. Usually you read that they... work with the very best materials and ingredients. That they are market leaders and have the best interests of the environment at heart. That they are experts. That they are the pioneers.... 
You only have to look at a few websites and you will see what I mean. You read the same thing almost everywhere. And yes... I do believe that the vast majority will tell the truth. But is reading this kind of content what you want to read?  I'm usually done with it quickly. 
But how should it be done? Actually, I have no idea. Maybe I'm missing the point completely. But in any case, I'm going to try and I'm going to tell you who we are. And I'm going to do it my way.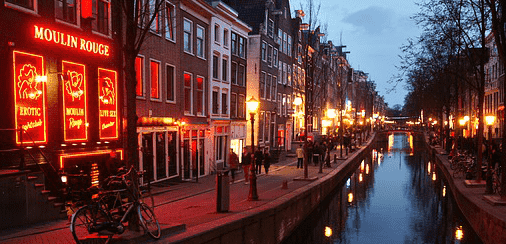 What does Gen1:11 stand for? 
Gen1:11 was founded by Marco Holsheimer. Born and raised in Amsterdam. At the end of the 70's - beginning of the 80's he grew up as a young boy.
In those days, Amsterdam was still a little tawdry. Amsterdam was a city with character. A city that was alive, a city that was free-spirited, bold, unique and quirky. Amsterdam had something mysterious, something elusive. Freedom was everywhere. Everyone went their own way. You came across the most flamboyant figures. Long live freedom.
But this also had a downside. Dealers who sold hard drugs openly on the street. Theft and burglaries by junkies and vagrants. Properties that were squatted by punks and anarchists. Illegal brothels and gambling houses here and there.
Also the youth who used to do only 'mischief' became more impudent. In order to keep the youngsters in the neighborhood where I grew up a little under control, the municipality of Amsterdam gave us a community center. We called it 'Muppet Place'. It was during the time when the first coffeeshops in Amsterdam were taking root. Muppet Place soon looked more like a coffee shop than a community center. So I feel the Municipality was pretty successful in calming down the youth. We all became a lot more 'relaxed'. Thanks to the municipality of Amsterdam I was introduced to the world-famous Nederwiet (Doe Maar -1980;-). I was 14 at the time!
As a 16 year old adolescent I went to the Lower Naval School 'Pollux'. This was a training ship that was moored near the Central Station. There you were trained to be a sailor. Even though I lived in Amsterdam I went on board the 'Pollux'. It was a bit spartan. You slept in a hammock. At night you hung up this in one of the three rooms on the ship. During the day these rooms served as classrooms, dining rooms and recreation rooms. At night it was a dormitory.
On the 'Pollux' I had a great time. Especially when we had lessons at other locations. When we went to such a location we always paid a visit to 'The Bulldog' on the Oudezijds Voorburgwall. In the well-known 'Red Light district'. We always took the Zeedijk as well. In those days the Zeedijk was known as the most dangerous street in the Netherlands. It was a hangout of dealers and junkies. But super exciting to walk there.
After 1 year of maritime school, I started sailing. As a sailor I went to all corners of the world.  If I could, I went to the harbor we visited to look for local crafts. This with varying success. 
After my time at sea, I entered the hospitality industry. In 1993 I started working in 'The Last Waterhole'. A live music pub in the redlight district with four dormitories where you could sleep for 15 guilders a night. Mostly backpackers came there looking for the typical Dutch 'crafts' which at that time were still quite unique in the world.
My First Creation
At the same time I lived in the Jacob van Lennepstraat. An old house in the Kinkerbuurt with a balcony facing south. This balcony turned out to be the ideal place to grow traditional herbs. There was plenty of sun and thanks to the balcony of the upstairs neighbors it had a good shelter from the rain.
I had 5 pots in which I let my first creations come to fruition. At garden center 'de boerenwagen' in the Jan van Galenstraat you could buy NPK nutrients. Each separately. You scooped the necessary elements from a barrel and got them in plastic bags.
The creating was magical. The handcrafted creations were eagerly sought after by the backpackers. But the most satisfaction I got from growing. The daily care. Seeing a small plant grow into an adult. My love for gardening was born. There on that little balcony in Amsterdam-West. 
This was my first experience with creating and administering NPK nutrients. This is how I learned to give the right proportions of nutrients at any time. Until 2014, I was always involved in 'Urban Gardening' on a hobby basis. From 2014 I started using my knowledge with professional fertilizer companies. And now we use all the gained knowledge to produce the Gen1:11 products.
With our entire Gen1:11 team, we make our products and knowledge available to every creator. Because we are here for you.
Try us and you will see that it is good.
We believe that value drives your behavior.
We believe that value can take you to the next level.
We believe that value motivates and stimulates.

Therefore, we also consider our value very important and we will act according to this value.
Onze waarden zijn simpel:
What we do, we do well... It's not about being the biggest. We just want to be one of the best.
We respect everyone and embrace our community... We love all creators and will help them wherever we can.
We are straightforward and openminded ... What you see is what you get, but we are always open to new insights.
We have passion for creation... We enjoy everything you create and we love giving you the best tools.
We keep it simple... It's not always easy to keep it simple, but we do our best.
We experiment to innovate... New insights emerge during the experimentation. We believe that we must continue to develop. Standing still is going backwards.